Discover more from DYL Ventures
Commentary from within Pakistan's startup and technology industry.
Digitising Pakistan's Retail Market
We examine how new startups such as Bazaar Tech and Tajir can help revolutionise the entire retail supply chain.
When I first entered Pakistan's eCommerce market in 2012, along with many of my colleagues, our view was that eCommerce would take over the entire retail chain. We believed this was an inevitability not just in Pakistan, but across the entire world. We envisioned Amazon devouring WalMart and AliBaba reigning supreme in Asia. We even thought that eCommerce would end up being north of 70-80% of the total retail market.
Our aspiring, innocent and, in truth, naive minds proved to be very wrong over the years. These assumptions were completely tossed out the window by the time Amazon bought WholeFoods, started their Amazon Go stores and AliBaba spearheaded the future of "New Retail" with their Hema stores. This plus the fact that despite years of strong growth in eCommerce globally the total percentage of eCommerce never really hit numbers higher than 25% in the largest countries when compared to the total retail market size.While Corona will impact the future trajectory of eCommerce, I still do not believe it will ever become a significant majority of total retail. 
Time has taught us that retail is both a key part of the overall eCommerce experience and one that is critical for Pakistan to embrace if we want to digitise our country. Therefore the recent capital injection into Bazaar Tech and Tajir has made an introspective dive into the retail industry an unavoidable and necessarily task. 
We want to outline some of the opportunities and challenges currently faced by this market. We will also be sharing some ideas about the importance of the retail sector and the role it can play towards digitising the entire economy. 
While writing this article we came across two other startups that are also focusing on this space, Jugnu & another still in stealth mode. 
Retail Market Size
The grocery retail industry can be divided into two segments: modern and traditional trade. The modern trade segment includes stores such as Carrefour, Imtiaz, Naheed's etc, whereas the traditional segment incorporates pretty much everyone else. There is a major disparity in between the two segments both in terms of sales revenue and retail outlets (the number of modern retail outlets are not even visible on the graph below and we have included the full table below to account for this). 
As stated by the Euromonitor report: We have "deep rooted consumer habits and behaviours, which keep traditional grocery stores at the heart of our shopping experience. Situated within residential neighbourhoods, traditional grocery retailers provide convenience for daily shopping, and with the facility of credit purchasing, loyalty to the channel remains high. Moreover, the over-the-counter sales mechanism makes traditional grocery retailers the key gatekeepers for many household, personal care and packaged food brands, and companies invest in shelf displays, banner advertisements and trade initiatives to help traditional grocery retailers thrive."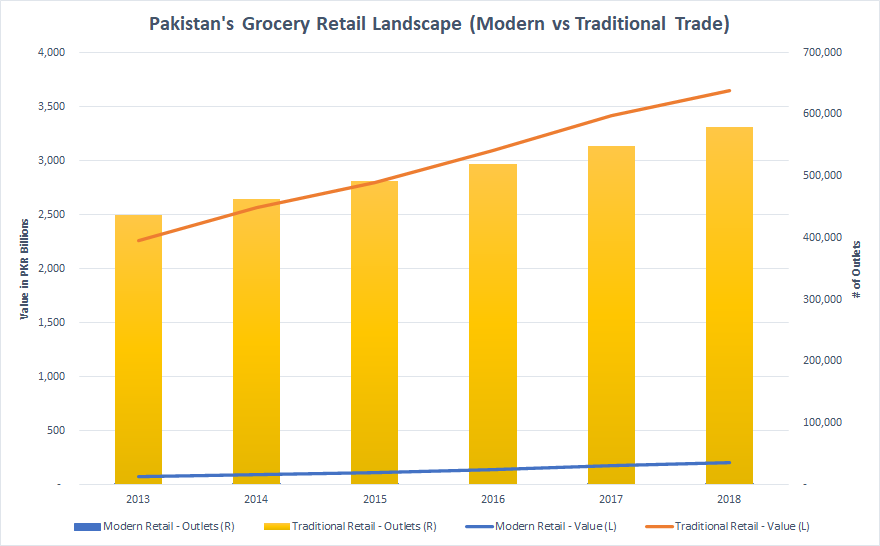 Key Stakeholders in the retail industry
To give everyone some background on the players in the retail industry we have included a short infographic below. However, for more information I recommend you read Analyzing FMCG Distribution End In Pakistan - Ans Shahzad & Retail revs up - Recent - Aurora.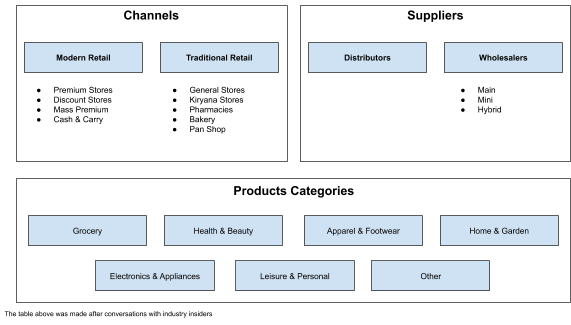 [Note: when we mention the traditional or retail segment from now onwards, we will generally be talking the much smaller segment of stores such as general stores, kiryana, etc as mentioned in my categorisation above rather than the overall retail sector or stores that fall under the modern retail channel]
Current Market Dynamics & New Players
New players in the market, such as Tajir and Bazaar Tech, all seem to be primarily focused on aggregating demand for those in the retail segment and this is a great entry strategy. It's likely to be a profitable business in terms of unit economics and they are solving a real need. However before we go deeper into their strategy lets learn about the current best practices within the industry. 
How do retailers stock their shelves today?
Currently retailers have to deal with multiple distributors and wholesalers, with some even going to places such as Carrefour/Metro to get bulk deals on products. Each store carries anywhere from 50-500 products and to gather inventory they have to deal with upwards of 20-30 distributors and wholesalers. The ordering process is ultimately broken as they have to wait for order-bookers to come and initiate the process. Having an order-booker is convenient if you are a big store and are serving a large area, however, if you are a small store in an underserved area it does not help much because the order-bookers are less likely to approach you on a regular basis. Once the order is taken, delivery usually takes place the next day. 
Each of the startups (Tajir, Bazaar etc) currently entering this arena is likely to be focusing on the following key components: assortment; price; fast delivery and ease of use. While factors such as these are the most critical for ensuring long term success, We believe there are a few other areas that startups should also focus on to ensure long-term retailer loyalty, diversification of revenue streams and the creation of a strong ''moat'' in general as a defense against competition.
Ease of Use & Guaranteed Delivery
The startups intend to provide retailers with an easy and simple mechanism to place orders for supplies. This itself will add value as the retailers will now be able to compare prices of inventory very easily and therefore earn a higher return on their investment. They also intend to offer speedy delivery along with the option to do live tracking of the ability to choose delivery slots. 
Branded Items & Private Label
The startups intend to offer all sorts of branded items from all the FMCG's that are available. One of the largest segments of sales however are commodities such as sugar, flour and salt which are ripe for upstream integration and can be sold under private labels. In a market which will be inundated with new startups and incumbent players the best way to make yourself stand out is to have the lowest prices. We believe that the shrewdest of players will go the extra mile and aim for a higher strategic position in the supply chain to earn additional value. 
Building Infrastructure & Enabling Technology Focused Growth
After these startups establish their core business models, they can then begin to focus on expanding their business lines. By using their relationships with retailers, they could decide to build core infrastructure which currently does not exist and/or are unusable by retailers for reasons such as complexity, comprehension and price. Some examples could include infrastructure for Inventory Management Systems (IMS), a Point-Of-Sale (POS) System, Credit Ratings for retailers etc. Getting into these adjacent markets will create a larger impact in the future. This is because it will provide other Pakistani startups & retailers with the infrastructure and data they need to expand into additional services such as Loyalty Programs and the B2C market.. 
Inventory Management Solution & POS
The majority of retailers in the retail segment do not have inventory or point of sale (POS) systems. There is no method to accurately know how much live inventory is in the system, which are the best selling SKU's average stock time's etc. After the core B2B supply chain business is established, if the startups are able to leverage their relationship to provide an inventory management and POS system, they will be able to leverage that infrastructure to build out multiple other revenue stream for themselves and provide greater data to the retailers to avoid things such as stock-outs and reducing inventory carrying costs. 
Big Data & Fintech
Bazaar Tech and the other players in this field would need to ferociously add more and more retailers to their roster. As they expand the number of retailers they serve they are ideally placed to start offering greater insights and data to both FMCG's and to store owners - especially if they are deeply integrated into the retailers POS and IMS. They could capture data and insights on consumer behaviour, purchasing patterns and many other elements to help drive efficiency and profits across the entire supply chain. 
The retail segment is also one that is generally never given any access to credit facilities. A lot of the credit risk could potentially be reduced if data on sales and inventory levels were accurately held thus allowing banks and fintechs to start lending working capital to retailers to help them grow. 
Loyalty Program
A loyalty program for retailers will also help make a startup/distributor stand out against the competition and give retailers an extra reason to choose one service over another particularly when prices are the same across platforms. 
Entering the B2C Segment
In addition to the above mentioned factors, we believe that massive economic value can be generated for these startups, their retailers as well as Pakistan's digital ambition by pivoting towards the B2C industry in the future. If they are successful in providing an amazing purchasing experience and helping their stores save on purchasing costs, the retailers will be willing to test out new and innovative methods en masse with the distributors. 
There are multiple entry points for the B2C business which include the following:
Direct customer app for both B2C & B2B clients

POS with an eCommerce focus

POS with a Fintech focus
1) Direct Customer App
One of the simplest extension's Bazaar Tech could provide is to offer a consumer facing app. Similar to Aaramshop, which made its way to Pakistan earlier in the last decade, its goal was to allow customers to purchase items directly from local retailers for pickup or delivery. While we are not sure of the exact reasons for its lack of success, we are assuming a big part of it  was accessing current inventory levels at each local retailer. 
As Bazzar Tech et al are entering this space starting with B2B procurement, they will have a much better view of the inventory available on hand at every store; especially if they expand/integrate into the stores' POS and inventory management systems. They could then easily create a customer app which showcases the products that are available in the nearest store to them and allows them to place an order directly for collection or delivery. The beauty of this model is that you are helping establish a hyper-local "super" on demand business, where you could get your deliveries in between 5-15 mins. 
This app could also be repurposed to allow large and small corporates alike to digitise their procurement of general supplies. 
2) POS with eCommerce Focus
Furthermore, every retailer could be converted into an eCommerce outlet. By using API's from eCommerce retailers such as Bookme, Daraz and Dawlance, each Kiryana store's POS could be a gateway into every product available across all major eCommerce stores in Pakistan.  Imagine going to your local kiryana store to buy bus tickets directly from Bookme or even become an extension of the millions of products on Daraz. This is an idea that could be taken even further with a LCD placed above each store's counter offering weekly deals from top brands such as Dawlance etc directly to the consumer and available for purchase locally for delivery to either the store itself or their home with payment immediately or when the item arrives. Not only will this help store owners make a lot more additional income but it will also provide tremendous value for customers.
3) POS with a Fintech Focus
We believe out of the three B2C focus areas, integrating more payment options that are easy, simple and convenient for the customer to use would have the greatest overall benefit to all the stakeholders within this ecosystem.  
At the time of purchase, the retailer could offer multiple payment options to their customers. Within the POS system, alongside the standard cash option, integrations with banks and fintechs could also be present. Customers could then be given an option to pay with a dynamic QR code on screen or with a bank transfer.
We would wager that the well funded fintechs and banks would love to use some of the money they currently spend on TV ads to have a direct means of gaining regular customers. In the past we have seen instances where as little as 200 rs or a 5% discount given on groceries has led to major jumps in sales. This phenomenon is common when giving discounts on fashion and electronic items, but demand will be much greater when you give them on commodities and particularly when you offer them at your local grocery store. 
With the introduction of dynamic QR codes as well the ability to pay within digital means will be seamless, especially when compared to the clunky methods with which you have to pay now. 
Challenges
Entering into the retail space and expanding will of course not be easy just because the startups mentioned are using technology or raised a few rounds of investment. There are key challenges that every new entrant will need to overcome. 
A large part of this market is serviced by wholesalers who only operate on a cash  basis which means reporting sales to the FBR  could be avoided. With a nation as undertaxed as ours we have to consider the impacts of competing against those that are happy to skirt the tax collectors. 

Distributors after the lockdown have hopefully realized they cannot rely on order-bookers alone, and with the number of startups with funding entering this space they themselves are likely looking at deploying similar technology to automate the order-booking process.

The retailers who are regularly served by the order-bookers will rightly wonder what benefits these startups will provide to them. They would probably prefer to have someone come and take an order. In these scenarios price will be the most important factor, so these new startups will have to ensure they are extremely competitive while offering an amazing level of service. 

The more competitors that enter this sector the harder it will become as only those startups/distributors that add real value will win. We can imagine in the not so distant future that every retailer has multiple distributor apps on his smartphone and they would regularly compare the prices of products across different distributors. 

Offering a high level of service will be extremely important as well. It's easy to promise next day delivery, but another matter completely to achieve it. Concerns such as how invoices are to be delivered and what the return policy is for products is also of crucial importance. 
Conclusion
Any investment that comes into the retail sector is worth celebrating not just for local startups but also for potentially increasing the digitisation of the entire economy. While each of these ideas mentioned above can be done individually by other startups as well, we feel that having an existing relationship with thousands of retailers beforehand will help immensely. All retailers by and large need to go through a digital revolution within Pakistan and we need to get rid of the paper parchi system once and for all. 
We leave you finally with a potential business model that could be built by each of the startups/distributors in this space.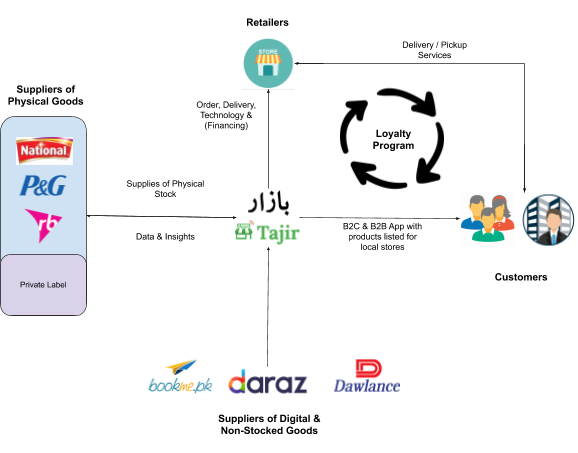 If you enjoyed reading this article consider subscribing. We promise to never spam you or share your email address.