Discover more from DYL Ventures
Commentary from within Pakistan's startup and technology industry.
Pakistan, A Frontier Market Experiencing a Startup Revolution
With its startups considered to be "more hardcore technology than their Silicon Valley equivalents" Fadi Bishara of Blackbox VC believes that Pakistani entrepreneurs have tremendous potential. Pakistan's startup community has gone through tremendous growth in the last year. Local startups have received funding from investors across the US and Europe and many have gone on to take part in accelerator programs across the globe. With the 3G and 4G auctions recently taking place, next year looks set to be a critical one as the number of internet users is expected to rise rapidly.
The sixth largest country in the world in terms of population with 60% of its citizens between the ages of 15 and 45, Pakistan is a demographic goldmine. It lays claim to the 4th largest middle class in developing Asia, after China, India and Indonesia, with consumer spending within the economy growing at a rate of 26% per year between 2009 and 2012.
Support System
Plan9, a government backed local incubator, is entering into its second year now and has proven to be a key instrument for the success of many local startups. Groopic, Appography and XGear, are all graduates of Plan9, have gone on to earn worldwide acclaim and success.
Groopic is a photo-taking app that uses computer vision technology to add the photographer in every photo. It has become a top 10 selling photo application in nearly 50 countries and reached the Number 1 spot in 3. They have recently added Kima Ventures on to their list of investors.

Appography is producing the next generation call center integrated voice response system (IVR). Having received funds from UK based investors they are incubated at Microsoft Ventures in London and will be headed to Silicon Valley this summer for Blackbox's Connect program.

XGear enables you to read and act on analytics from your car such as fuel management, behavior monitoring and live tracking by adding a small hardware port to your vehicle. They are currently crowd-funding the product and are marketing aggressively to US based fleets.
In addition to Plan9, the PITB, has also launched a freelancer co-working space dubbed "TechHub" and will be launching an accelerator program named PlanX in the coming weeks.
The success of Plan9 has also inspired one of Pakistan's leading universities, LUMS, to set up the Center For Entrepreneurship in Lahore. They have three main objectives in mind: launching their business incubator, The Foundation; raising a sizeable seed investment fund and opening a network of co-working 'Plug N Play Centre's. While in Karachi, P@SHA in partnership with Google for Entrepreneurs will also be launching a new incubator in the coming months.
In addition to these incubators, DotZero in Karachi and Basecamp Peshawer have opened up co-working spaces in support of local startup ecosystems. They play host to events ranging from Startup Weekends to Civic Hackathons and have created a community where local entrepreneurs can get together to share ideas.
Market Conditions
Recently launching 3G and 4G in Pakistan, the government is hoping to kickstart a wide variety of industries in the country. The current 30 million Internet users, including 3.5 million broadband subscribers is expected to grow to 45 million high speed internet users by 2020. With 3G available in all major cities and 4G expected to be available by the end of the year, the increase in 3G/4G users is expected to rise to 110 million by 2019. Growth in internet users is widely believed to lead to an increase in online retail sales. Currently this stands at an estimated $15 million per year.
With over 200 cities and towns in Pakistan covered by local logistics companies, online retailers such as Daraz.pk and Symbios report 50% of their orders come from outside the 3 major cities of Karachi, Lahore and Islamabad. Local logistics firms such as TCS, Leopard and Blue-Ex have been instrumental for the growth of ecommerce. These companies provide Cash on Delivery (COD) services to their clients, offering next-day shipping to all major cities.
Online payment methods are yet to be developed which is why COD accounts for over 90% of transactions. Major financial institutions over the last few months have announced a multitude of partnerships to introduce online payment methods. HBL and MCB, two of the largest local banks, have partnered with Visa and MasterCard respectively to offer merchant acquiring facilities for online retailers. Telenor, the countries second largest mobile operator and largest mobile banking provider under its EasyPaisa brand, will also offer retailers facilities to accept online payment. Lastly, 1Link, will bring in Direct Debit facilities to Pakistan. Even if online payment methods are introduced in full fervor, it will be a while before the Pakistani consumer gains the confidence to make the transition from COD to paying online.
Opportunities
Growth of local startups across various sectors has been staggering over the course of last year. Many segments have started maturing, and with increased competition, startups that were just in their infancy last year have grown substantially to establish their relevance.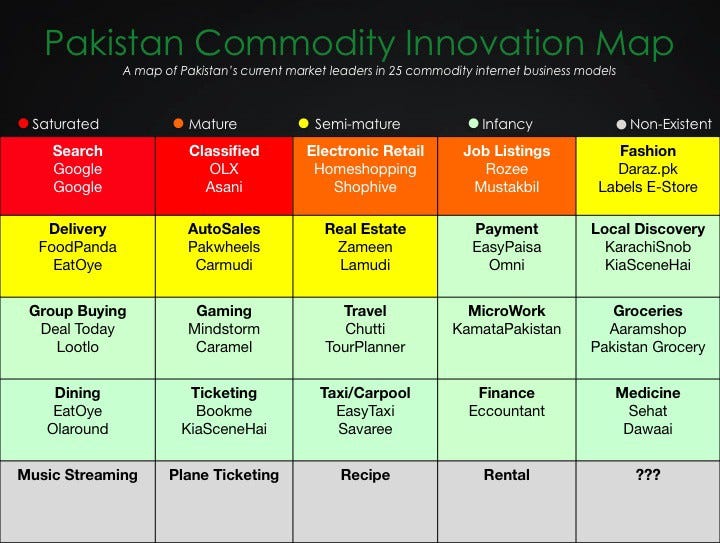 Classified
The classified sector is arguable the most competitive with 3 major international investors competing for market share. Nasper's was the first to enter the market with OLX, followed by Schibsted with Asani.com.pk and Kinnevik with Dekho.com.pk.
Retail
The retail market has shown a lot of growth in the last year with Homeshopping on the electronics side, and Kaymu on the listings side reporting over 1,000 orders per day. Fashion houses such as Daraz.pk have started international shipments and are now promoting Pakistani designers overseas. This segment is expectedly the most congested with dozens of competitor's operating in both niche and mainstream markets.
Delivery
The food delivery business, estimated at PKR 15 billion ($150 million) has seen the most activity in the last year. Rocket Internet's, FoodPanda has gone on to lead the segment and reported 4,000 orders via their mobile app alone in the first quarter of 2014. Their biggest competitor, EatOye was launched last year has gone on to double their transactions on a monthly basis. E-Takeaway a Danish food delivery business that has focused this year on expanding its global footprint, chose Pakistan as their first major market for expansion due to its growth potential. They entered the market by acquiring Urbanite, one of Pakistan's first online food delivery companies.
Local Discovery
Karachisnob and their other cities equivalents have been the go-to websites for finding information on local restaurants, however, a recent crop of local discovery websites and apps such as KiaScenehai and Chalo have been giving the them a fair deal of competition. The new entrants are developing apps for the growing cohort of Android users in the country and offering updated cinema listings as well as the ability to purchase tickets through their website in certain localities.
Gaming
Pakistan has a very strong gaming community that has for years acted as an outsourcing center for US and European based studios. Having developed hit games such as Fruit Ninja for other companies, the gaming community is now creating games under their own brand names. Local gaming studios have had successes such as: "Whacksy Taxi", which rose to number one on Apple's AppStore in over 25 countries; "Mafia Farm" in 2012 and "Cricket Power", the official game of the 2011 World Cup.
Car Sales
PakWheels has been Pakistan's largest automobile sales website for many years, and has grown to be the 70th most visited website in the country. Recently Rocket Internet has launched Carmudi, which will be competing directly with PakWheels. Considering Rocket Internet's financial backing the coming year may prove to be an interesting battleground for the two companies to compete in.
Taxi/Carpooling
The past year also witnessed Rocket Internet's launch of EasyTaxi in Pakistan. This app is the first in the country to offer private limo services. Initially launched in Lahore, the service has expanded to Islamabad, Rawalpindi and Karachi already. Another local carpooling app by the name of Savaree, was conceived and developed this year at a civic hackathon. It has recently been launched in Lahore and has already managed to gain a lot of attention in the local media.
Groceries
Aaramshop.com an Indian startup successfully set up an online grocery shopping system, via local neighbour stores. They are now collaborating with Pakistan to introduce the same concept locally. Currently only operating in Karachi, Aaramshop.pk is looking to expand as their competitors in the business are fast to enter the market.
The Other Side of The Coin
There are an estimated 12,500 Pakistani's working in Silicon Valley, and those who return to become entrepreneurs are doing so with excitement about the number of opportunities still present. The working environment, though still challenging to operate in, is constantly improving and with the launch of 3G and 4G this year there is renewed hope from local entrepreneurs that the country is on the verge of an Internet revolution. With successful entrepreneurs continually supporting and mentoring the new cohort of startups, being assisted by the rise of incubators such as Plan9 and The Foundation, there is a strong possibility that in the coming years Pakistan can produce a company as successful as Facebook or Google itself.
Pakistan Startup Report 2014
[slideshare id=36670722&doc=pakistanstartupreport-140706065721-phpapp01]
This article is part of The Pakistan Startup Report that was prepared in collaboration with the World Startup Report and DYL Ventures.
[mc4wp_form id="1663"]