Preventing Abandoned Carts Using AI
Definition: Abandonment — An eCommerce term used to describe the act of a visitor leaving a web page before completing the desired action, which can range from signing up for a newsletter to purchasing a product.
While this post will focus on how entrepreneurs can reduce their abandonment rate, Fifth Gear has a comprehensive infographic on WHY customers abandon their cart here.
Stats
The Baymard Institute compiles abandoned cart rates from various sources which indicate an average abandonment rate of 67%. That's 2 out of 3 customers who add an item to the cart, but end up leaving without concluding the transaction!
Although you can never bring your abandonment rate percentage down to zero (with a sustainable business model at least), you can reduce it using applications, many of which require next to no configuration in your online stores. For example, the Magento Connect store alone has over 40 extensions available which have "Abandoned Cart" as a search keyword. All of them promising different means to reduce the customer exit rate.
Proactive vs Reactive
Most abandoned cart methodologies you see will either be proactive or reactive. The latter segment is more highly developed, because trying to identify a shopper who will abandon his cart, while he is still on your site requires a highly sophisticated level of artificial intelligence.
Proactive: Services such as Granify are using AI to identify and save customers who would abandon their cart before they leave your site. They then show a customizable message to entice them to follow through with the sale.
Reactive: Services such as Bounce Exchange, try to capture your customers' email address prior to exit and then using email marketing tools to recapture that potential sale
Applications
Bounce Exchange
Method: Extract some information prior to exit, which is used to recapture customers' at a later stage.
Bounce Exchange uses what it calls "Exit-Intent" technology to try and identify when the customer is going to leave the website, and displays a pop-up to capture the customers' email address. At the time of writing it was being used by Kissmetrics (go to the website, fill in one or two of the fields and then navigate towards the close window/tab button) or check our their free demo on our website here. This would be of use to the prospective buyer who intends to return at a later stage, however not all eCommerce stores will be able to justify the high costs. Pricing starts at over $2,000 per month. Small ventures will consider this too high for a system that fails to prevent lost sales, however all campaign that are built by their 'conversion directors', meaning you get an 'expert' in the field to lower your abandonment rate all at a fixed monthly cost.
Granify
Method: Stop cart abandonment before they leave the site by enticing the customer with a personalized offer.
Granify uses AI to track buyer attributes and then predicts which users will abandon their carts. Using its technology, it takes a proactive approach to stopping cart abandonment. Granify shows your customer an offer that will entice them enough to purchase. Its purpose is to stop the customer from abandoning the cart in the first place. These messages are fully customizable and can range from free delivery, discounts, and positive reinforcement therefore Granify converts potential customers into real buyers (Demo). With a revenue sharing pricing structure, you only every pay a percentage of the additional sale Granify captures for you, and not on your existing sales. Therefore both large and small online stores can use it's technology to increase sales and not worry about a fixed monthly expense.

Chat Applications
Method: Understand what your customers' want in real time and deliver.
Although this method involves a lot less AI, and a lot more manual intervention, it is by far the best method to understand exactly what your customer is looking for and therefore why they may exit your website. The more advanced users can even set up auto-chat rules based on various visitor information, i.e. duration on page, returning visitors etc. There are a lot of chat tools available that are feature rich, some even provide free plans for up to one full-time agent (Olark, Live Chat Inc, Zopim etc).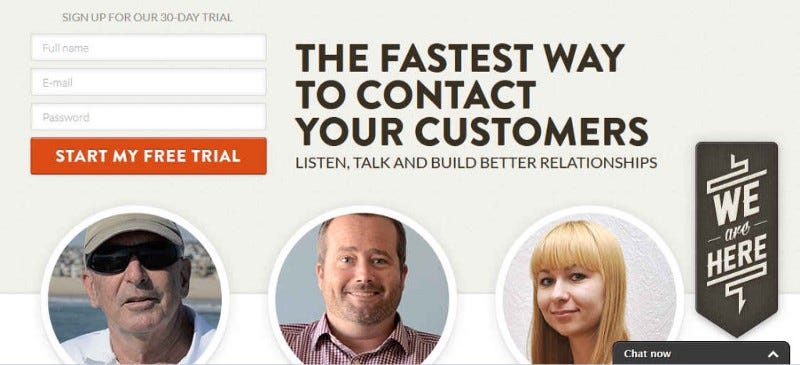 On-Site Survey Application
Method: Understand your customer without adding a dedicated customer service agent.
Serves a similar purpose to the last methodology, however is useful if you dont have the resources to hire a full time agent. Using dedicated surveying tools such as Qualaroo, 4Q (now iPerceptions), or the chat applications mentioned earlier, that have an offline mode to gather information via emails.

You can find more information about these and other tools in our resources section, or get in touch with us at hello@dyl-ventures.com