Discover more from DYL Ventures
Commentary from within Pakistan's startup and technology industry.
Primed for Growth: An Analysis of Pakistan's eCommerce Market in 2016
Originally published on ProPakistani
Last year has resulted in exponential growth of the ecommerce industry in Pakistan. We have witnessed strong movement in the sector in terms of overall sales and customer acquisitions. Traditional industries have also started to benefit from this trend and have begun to move towards partnering with online stores to increase their revenues. This growth is coming in due to some exciting partnerships taking place, however a lot remains to be fixed as well if we are to hit $1 Billion in ecommerce revenue by 2020.
Black Friday
Let's start by examining the biggest event of the year for the ecommerce — Black Friday. In November 2015, Daraz introduced Black Friday to Pakistan with great fanfare. In 2016, Black Friday was much bigger, both in term of sales revenue, customer acquisitions and the number of ecommerce sites who participated by offering extraordinary discounts.
Daraz & Kaymu's revenue surpassed Rs 1 Billion during Black Friday, Yayvo.com exceeded 60,000 orders and though other stores have yet to reveal numbers, HomeShopping, Symbios, Shophive all participated aggressively. New entrants such as MyGerry's also used Black Friday as a launching pad for entry into the ecommerce arena.
Black Friday achieved a cornerstone in retail, to the extent that it permanently left its mark as the pinnacle event in Pakistan for both offline and online channels. The comparison is similar to that of Singles Day in China, and the Big Sales held by our Indian counterparts around Diwali.
Black Friday has become such a milestone for the ecommerce sector because it witnessed major economic partners aligning themselves together to create the necessary ecosystem needed to facilitate online shopping. JazzCash & EasyPay worked hand in hand as the main payment partners with Yayvo & Daraz respectively. Furthermore major banks offered additional discounts to their Credit and Debit card holders to help push prepayments. This in itself was a major move for the industry away from the Cash on Delivery payment method which accounts for more than 90% of sales during the rest of year.
Multinationals who own brands such as Dove, Ponds and many others also partnered with major ecommerce players to help bring their products to a wider audience. All in all Black Friday pushed the ecommerce industry into the mainstream and proved to Pakistan that it in fact offers a truly viable future for the country's retail industry.
Overall Market Size of ecommerce in Pakistan
There are many estimates floating around as to how big the ecommerce market is in Pakistan. We must first divide up the ecommerce sector into various smaller divisions. This allows us to understand the dynamics of each sector in a more comprehensive manner in order to estimate sales volumes.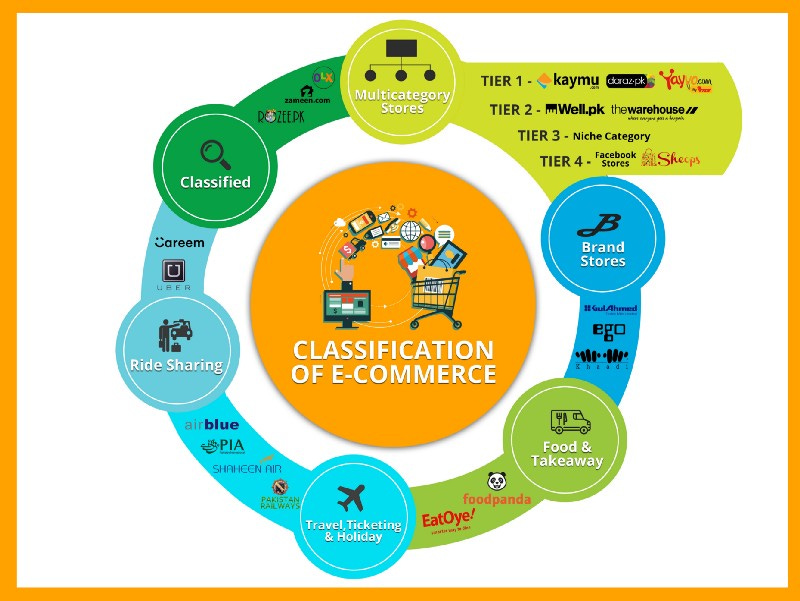 Marketplaces or Multi-Category Stores

Tier 1 Stores: These are your multi-retailer and multi-category online stores. The biggest ones of the pack are Daraz, Kaymu & Yayvo, with other e-tailers such as HomeShopping, Symbios, Shophive, Telemart also competing.

Tier 2 Stores: There are stores which have been present for some time or have recently received investments and are pushing hard to enter the Tier 1 category. Stores such as Well.pk, GoTo, The Warehouse are all part of this group.

Tier 3 Stores: This would be a very large collection of e-stores that are trying to compete via a niche category or as a multi-category store with a very limited team and marketing budget.

Facebook Stores/Group: These comprise of another considerably large segment and sales volume, with examples such as Sheops taking top spot.

Brand Stores: This segment includes e-tailer's such as Khaadi, Ego and Gul Ahmed who enjoy strong brand awareness but are primarily focused on sales through brick and mortar means. These stores generally have a high volume of sales and their basket size (AOV) is high. It's a good testing ground for new products for brands and gives them the reach to capitalise on their brand identity without investing in retail locations across the country.

Food/Takeaway Model: Enjoys a considerably large market in Pakistan monopolised by FoodPanda and EatOye.

Travel, Ticketing & Holiday: Players such as Jovago sell hotel bookings and even PIA, Shaheen & AirBlue. Traditionally these airlines and other transportation service providers are not associated with ecommerce however they do conduct a sizeable amount of their sales online. Pakistan Railways alone made Rs 100 million through e-ticketing in 2 months.

Ride Sharing: These include Uber and Careem along with sites such as Travly giving local competition.

Classified: These are listing sites such as PakWheels, Zameen.com, Rozee and of course OLX.
To accurately calculate the current size of the ecommerce market we need to include all these sectors. When focusing on only the multi-category and brand stores, measuring sales becomes far easier as the market is still primarily based on COD.
With 3 major COD couriers and several second tier couriers measurement can be fairly accurate. However, measuring sales of Careem/Ubers and even sales of tickets via PIA is a much more challenging and difficult task. Most of these companies do not release their numbers in sales volume and when they do questions on whether those are GMV or NMV are not addressed.
Based on my knowledge and collection of data, I estimate in 2016 overall gross revenues stood well north of $120 million.
Customer Acquisition
Massive Campaigns such as Black Friday not only help in increasing the number of transactions through ecommerce stores, they also are a very valuable source of new customer acquisitions.
The biggest such event outside of Black Friday was GOSF — the Great Online Shopping Festival which was organised by Google and the Jang Media Group.
The event saw a dozen online stores participate in an event which led to a staggering 1 Million unique users visiting the GOSF site. Over 25,000 orders were placed in a span of 3 days with sales estimated at around Rs. 133 million.
As we move into 2017, more and more large customer acquisition events are planned as they act as large customer awareness programs which is crucial giving even the largest of ecommerce companies do not have the budgets necessary to sustain long TVC campaigns like they do in India.
Major Areas of Improvement
In an industry that's still growing, there are always going to be numerous challenges. Some of these challenges can be identified easily while others are still harder to pinpoint. The major issues that the ecommerce industry faces have been outlined below:
An Unbanked Populace
We are living in a country where the majority of the population is unbanked. Those customers who have a bank account cannot even use their debit/credit cards online as they are by default restricted from being used for online shopping.
Unmapped Areas
Another challenge is posed by the lack of identifiable locations. Customers living outside of the major cities of the country, at many times, fail to have specific addresses that identify the actual place of delivery. This can make life extremely difficult for logistic companies and many orders experience long delays due to this issue. Customers get understandably annoyed and many choose to abandon their orders.
Fulfillment Failures
The biggest challenge facing our industry is that of fulfillment failures. Failed deliveries occur as a result of customer cancellations and even refusals to accept order by customer at their own doorsteps, but these are more or less commonplace occurrences in the ecommerce business.
Where Pakistan's ecommerce industry takes a bigger hit than it would in other places is in terms of ecommerce stores not being able to fulfill their products 100% of the time due to unavailability. Even when customer cancellations and refusal at doorsteps are taken into account, the number of orders that are cancelled due to the vendor listing inaccurate stock levels or information, is far too high.
Regardless of the reasons regarding whether the vendor, the marketplace, the warehouse or the manufacturer is to blame, and regardless of whether the solutions is technological, manual or has to do with planning, this problem needs to be rectified quickly.
Since for many online customers ecommerce is still a relatively new retail channel. Delivery failures will only make customers more reluctant to place their orders online a second time. This loss of trust by customers will hurt our entire industry and not just the vendor who fails to meet his customer's demand. This problem will lead to reduced repurchase rates and cause increasingly bad word of mouth for the whole sector.
If this industry wants to make a dent in the retail market this issue needs to be addressed as growth will not be achieved by simply hosting massive sales events every few months. We need to ensure that the customer who purchases a Rs 200 charging cable and expects it to be delivered in 2 days gets it in 2 days rather than waiting 5 days only find out that the order has been canceled.
When customers shop online they do so for the convenience that online shopping offers. If they find that instead of convenience they experience aggravation then the whole purpose of online shopping is defeated and its future in a country like ours will not flourish.
The Growing Market Position
The online retail market is growing immensely on an annual basis. Yayvo has in the first 5 months of the financial year exceeded its revenues of the previous full year. Other large ecommerce companies post growth of as much as 300% per year and these growth numbers are apparent across the rest of the industry as well.
With growth accelerating across all sectors and estimated to reach $1 Billion in revenue in 2020, ensuring positive customer experiences is the minimum requirement. In fact ecommerce should promise its customers an above average shopping experience that surpasses all their expectations, this is the only way ecommerce sales can start becoming a bigger chunk of retail sales.
To do this we have to realise the right levers that are necessary to enable great customer service. While a customer will directly interact with 1 Website, that website is reliant on multiple industries and players to ensure they deliver a seamless experience.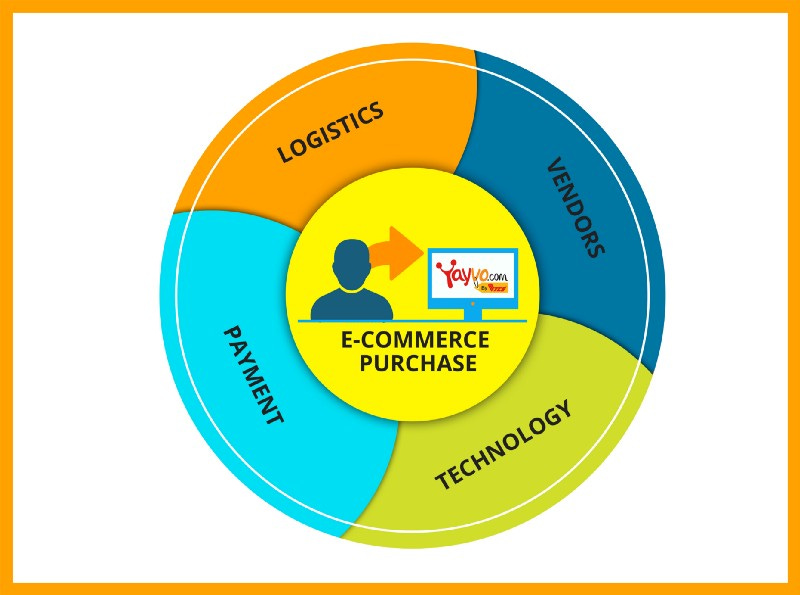 Vendors — without vendors the ecommerce industry would not have any products to display. Vendors are crucial to marketplaces in particular where any delay in receiving the product can ruin the customer experience.

Logistics: Once the product is procured having the right delivery partner is crucial. Factors such as service quality and cost are both equally important as well as providing live tracking data and support.

Payments: Whether the payments is handled by the logistics players through COD — or by Credit Card merchants how easy and accessible the payment method is crucial for both the customer and the ecommerce player. The ecommerce player needs to ensure he receives his payment on time otherwise can suffer greatly from lack of working capital.

Technology: The backbone of the ecommerce site, technology whether its just the web store, the seller centre, the warehouse management system or the customer support system. Without the right technology no ecommerce company can succeed. Whether the technology is custom developed or bought is irrelevant, however its requirement and proper usage is crucial to succeed.

Trust: Only when all of these elements are working properly will the customer end up getting a good experience and therefore start to build trust in the overall sector. This will result in higher repurchase rates and therefore retention which itself will then drive further acquisitions of new customers.
Conclusion
We have over the past 2 years seen massive strides in ecommerce. With the launch of 3G there was an immediate boom in the industry, now as 3 of the 4 mobile networks have 4G/LTE we might be in for another round of growth especially if we start getting cheaper 4G handsets.
Traditionally retail industries have also started to aggressively explore entry into ecommerce, either directly or through marketplaces. The mobile networks are innovating rapidly and entering into the FinTech space. The FinTech space is also seeing new entrants directly and the banks have started to consider digitisation. The logistics players are trying to innovate more with two of the incumbents getting funding last year.
Overall I think we are on the cusp of a very exciting phase in ecommerce within Pakistan. There are still significant challenges ahead, however we are also in the lucky position of not having to set this up from scratch.
The US ecommerce market currently sits at around 8–9% of total retail sales, while China is around 18–20%. Pakistan's ecommerce isn't even close to 0.1% of total retail sales as yet but considering the overall size of our market we should be able to achieve better results soon.
As Benedict Evans of A16Z stated "Everything bad that the internet did to media companies is going to happen to retailers, if it hasn't already." We are in a market that is growing and it is upto us to ensure we look after all customers who do come online to shop so that we create an online shopper for a lifetime.