Discover more from DYL Ventures
Commentary from within Pakistan's startup and technology industry.
Tech Week in Pakistan (Issue 21: 6th July)
This weekly newsletter focuses on the most important new developments within Pakistan's Technology Sector. To receive this newsletter on a weekly basis subscribe to our mailing list (no spam ever) or follow me on Twitter @adamdawood. Previous instalments of the newsletter can be found here.
Connectivity Report
The connectivity scorecard aims to measure "useful connectivity" by making a link between connectivity and economic performance. Pakistan's is currently ranked 25th out of 26 nations out of a list which mainly includes developing countries with large populations. The ranking is based on 3 components, consumer business and public which are measured in accordance to infrastructure and usage and skills.
The results for Pakistan shows that our strengths lie in consumer and business usage and skills, i.e. the ability of consumers and enterprise to use telecom services. The report goes on to say that Pakistan is ranked 4th in terms of mobile messaging. One might therefore make the assumption that given affordable 3G services, adoption by consumers of 3G services could be very high. The report mentions that unquoted polls predict 12–14m 3G users in the next 2 years; this prediction is similar to those made by Ovum in last weeks newsletter.
Overall the report concludes that Pakistan has all the required pieces for "success" and that the recent mobile broadband auction is a key ingredient to help in these efforts.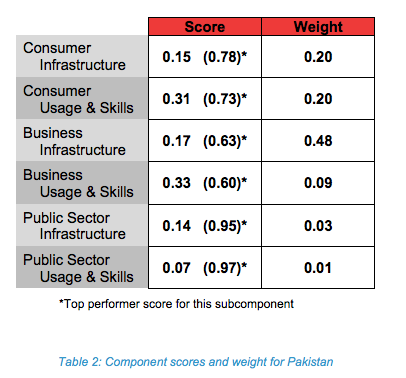 Connectivity Scorecard 2013 — Country Report Pakistan | Issue 20 of Tech Week in Pakistan
Telenor Launches Direct Carrier Billing
Telenor has launched direct carrier billing for purchases on its app store thanks to Fortumo. Although we have not tested the service yet it does introduce another method to accept payments without the need for credit/debit cards. Telenor seems to be excited by the proposition of releasing this technology to their 35m subscribers, "The facility will play a big role in promoting online commerce through convenience and accessibility." says the Director of Digital Services of Telenor Pakistan.
Direct carrier billing allows users to make payments by confirming payments with one click on their phone. As Telenor has all the information necessary to process the payment, this removes the need to send any text messages during the payment process. In markets where Fortumo currently provides direct carrier billing, payment conversion for first-time payments is close to 40% and higher for repeat purchases.
Fortumo | The Paypers | Policy Charging Control | Pakistan Payments Ecosystem
Pakistan Startup Report
In collaboration with the World Startup Report we have curated the first Pakistan Startup Report. For full coverage of the report please visit the following news sites/blogs:
Other News
[mc4wp_form id="1663"]