Discover more from DYL Ventures
Commentary from within Pakistan's startup and technology industry.
Tech Week in Pakistan (Issue 28: 9th November 2015)

This weekly newsletter focuses on the most important new developments within Pakistan's Technology Sector. To receive this newsletter on a weekly basis subscribe to our mailing list (no spam ever) or follow me on Twitter @adamdawood. Previous installments of the newsletter can be found here.
Classifieds Are Getting Interesting
It seems classifieds have a new avenue for expansion within Pakistan. OLX has been advertising quite heavily for the last few years, but in the past 2 months more players are now entering or re-entering the market to either innovate or retain market share.
OLX has been losing desktop visitors consistently for some time now. The reason for this is unclear but I would wager it is because traffic has shifted towards their app rather than having lost visitors overall. Given this probable shift the launch of these two new mobile focused classified sites seem to be a very interesting development.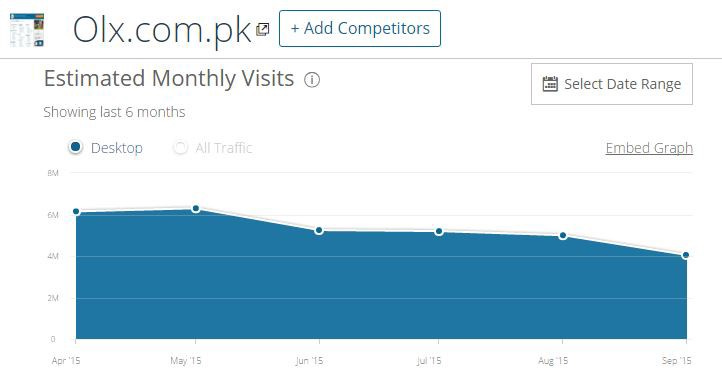 In order to compete online with OLX, companies such as Rocket Internet and Naspers have launched mobile centric classified apps called Sparklist and LetGo respectively. In the offline classified space The Jang newspaper has started to advertise their classified section in BTL media.
Both Sparklist and LetGo are looking to use an innovative mobile platform to make buying and selling both quick and easy. From a consumer's perspective both these apps are very simple to use. In a few clicks you can either buy or sell or correspond with your prospective traders and customers.
Sellers simply photograph the product they are selling, add a simple description, pick a category and suggest a price. Then buyers can search by location and/or category and begin the transaction or purchase related correspondence. Ads can be posted on the mobile app only. I tried to post an ad after turning off my GPS to see if it would allow me to place it without giving my location. Both the apps had seemed to have saved my location earlier on.
Both LetGo and Sparklist do not seem to have a defined revenue model just as yet. I have yet to see ads by either on any online channel as well however these are likely to follow soon as both would need to build a strong buyer and seller base in order to grow.
Jang Classifieds on the other hand has started to advertise on BTL channels across Karachi. I noticed them a few days ago while on the way back from the airport. This begs the question of how strong newspaper classifieds still are and perhaps they are now starting to realise the strong competition to one of their revenue sources from online channels. Newspaper classifieds though are still according to some the most effective means of advertisement for selling personal items.
Out of all the newspapers in Pakistan only Jang seems to have an online classifieds which, to me at least, seems incredibly bizarre. Dawn on the other hand though seems to have an online ad booking site with some very helpful tips on how to create and place your ad.
It's a very easy and simple opportunity to create great synergy between their online and offline platform. It would also act as a method to start taking orders for ads in the offline newspaper. I remember placing a classified ad in Jang 18 months ago in Islamabad and the entire process was very manual and offline. Having an online ordering portal could actually help increase the overall numbers of ads in offline classifieds as well.
OLX | Sparklist | LetGo | Jang Classifieds |Dawn Classified | e27
Other News:
Disclosure Statement: I am the Managing Director of Kaymu.pk, a venture funded by Rocket Internet. All news pertaining to Kaymu, Rocket Internet or any of their investors and holdings are discussed here as and when released in the media.
[mc4wp_form id="1663"]