Discover more from DYL Ventures
Commentary from within Pakistan's startup and technology industry.
The True Cost of Cash on Delivery (COD)
We calculate the actual cost of COD as compared to prepayment methods and make recommendations on what the industry and merchants need to accomplish to move us towards a future with far less cash.
There has been a lot of discussion of late on how the pandemic will help digitise Pakistan's eCommerce market and on how we can finally move away from our reliance on Cash on Delivery (COD). I believe the pandemic alone however, is not enough to convince customers to make the move. Before this happens, we have to first overcome a lot of challenges faced by eCommerce merchants. I order on COD fairly frequently myself and believe that every merchant who cares about their customer should offer it as an option, but greater development needs to take place within our payment systems for us to make the gradual shift away from COD.
First time online shoppers will always experience a level of mistrust combined with a fear of the unknown. They might have heard of how convenient online shopping is but many shy away from the actual process of completing a full order because of apprehensions regarding online payments. COD has given many the faith that even if their order is not delivered, they have not committed any actual money towards their perceived gamble and through this process they have protected themselves from any possible grievances. I have always believed that once our customers have taken this pivotal first step towards online shopping, it then becomes the task of the entire eCommerce industry from vendors, to logistics partners, to payment gateways and finally regulators to support eCommerce stores satisfy the customers needs. Only once trust is established between customers and merchants can online payment platforms finally take off in a real way. 
Safety and security will always be a foremost concern. Banks, Fintechs and regulators play a key part in supporting and assisting merchants to promote the utilisation of prepayment methods. We shall be examining their roles more closely in this article.  
The True Cost of Cash on Delivery
Last weekend I ran an informal survey on Facebook and Twitter the outcome of which echoed my beliefs that the majority of merchants think COD is more expensive than prepayments. Let's first start by exploring the actual cost of COD and why it is in the interest of the majority of merchants to try and move away from it where possible. 
Step 1: Simple MDR Calculation
The most simple comparison that many people make is that the Internet Payment Gateway (IPG) deducts their charges upfront. This is usually the comparison that is made off the bat but we all know this is not the complete picture.  

Step 2: Greater Logistics Costs
We have to take the cost of operations into account, there is a real difference in the cost of delivery for COD parcels vs non-COD parcels. 
The average non-COD parcel takes just 3-5 mins to deliver (time from when the courier reaches the destination to moving onto their next destination). Whereas a COD parcel will take anywhere from 12-15 min on average. This 4-fold increase is usually factored as a cost by logistics companies. COD clients also have a 1st attempt delivery rate being anywhere between 75%-85% depending on the category of the merchant and the product. Most logistics companies try and make at least 2 or 3 attempts at delivery and each of these costs are then passed on to the merchant as well. 
Furthermore, there is a cost for handling the cash generated by these deliveries. After every few COD deliveries or when a certain cash threshold is reached, logistics companies want their drivers to deposit the collected cash either into a bank which wastes additional time, or to an Easypaisa or Jazzcash agent which incurs more charges or to their area office which has to be manned by finance personnel. All of this adds to the final cost of delivery. Handling all this cash comes with risks as well with the possibility of the cash being stolen from the couriers. Therefore there is a component of insurance that needs to be built in for cash handling whether it is done formally or informally.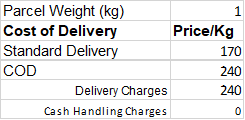 Note: I have taken the default delivery rates from a logistics companies website to give a transparent comparison. Rates in the markets are lower for both COD and standard delivery based on your business volume and size.
Step 3: Rejection at Doorstep
We have already mentioned how the 'first attempt' success rate is between 75-85% and even after the 2nd or 3rd delivery attempt a percentage of deliveries still remain undelivered. These parcels then have to be returned back to the merchant. The merchant will of course be charged for these failed delivery attempts so we have to build this into the costing model. If we assume a 5% failed delivery attempt rate it would lead to an extra Rs. 12 per kg. These are not the kind of costs any efficient store owner would ignore.  

Step 4: Net Present Value of Delayed Cash 
Finally, we also have to take into account the time value of money. The IPG's deposit the money within a few days of the transaction taking place. However, with COD the money is only deposited days after the delivery was successfully made. 

MDR of COD vs PrePayment Methods
So after the delivery and deposit we can see for our example that the MDR for COD is 25.8%, for Card transactions its 19.6% and for wallet transactions its 18%. While actual costs will vary based on key circumstances such as the price of the product, its weight and the delivery costs, for most scenarios COD will end up costing much more than prepayment methods.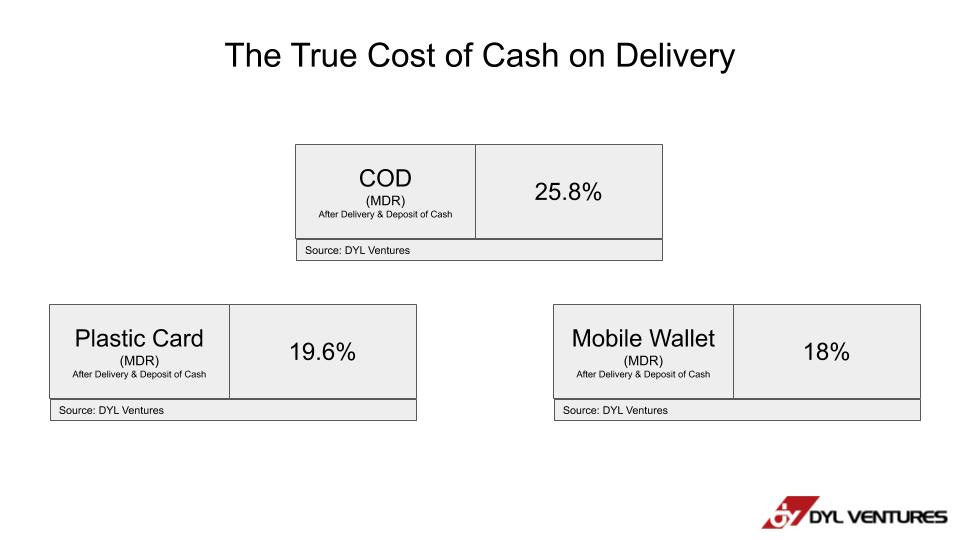 I have made available my worksheet here for anyone who wishes to enter in their own variables to determine the true costs of MDR on their product line. 
Other Factors
There are other factors and costs that eCommerce merchants must consider to arrive at the true cost of COD. Conversion rate of Prepayments is lower due to the high failure rate of non cash methods. I have seen failure rates as high as 50% for certain prepayment methods and there is always a risk that the customer may not attempt another order thereby denying the merchant of any revenue opportunity completely. 
Unlike prepayment transactions, COD transactions generally do not have to be verified. eCommerce merchants prefer to verify COD transactions via calls, sms or robocalls to try to lower their 'rejection at doorstep' rate (step 3). One could argue that card transactions, as per the IPGs request at times, require customers to fill in their card details and this indeed is a very cumbersome activity. The conversion rate for prepayments is also slightly lower due to the number of extra fields the customer is asked to fill. 
We also have to examine refunds on both types of payment methods and particularly chargebacks on prepayment methods. While we can ignore any refunds that occur for genuine reasons, (mainly because their occurrence is common across the two payment types), we have to look at some other factors as well. While COD suffers from a 'rejection at doorstep' problem, in the case of prepayments (especially credit cards) customers can conduct friendly fraud or demand a chargeback even after receiving the products. The burden of proof is then on the merchant and this can add to the overall cost. However, it is much harder to judge these costs and I believe their occurrence is far lower than the problem of COD's 'rejection at doorstep' rate.. 
The hassle and effort of giving refunds is also much greater for COD orders when compared to the some prepayment options (see IPG section for full details). With certain prepayment methods the ability to do instant refunds is available with 1-click or an API, whereas with COD, refunds have to be handled manually. 
These variables change considerably when the key assumptions such as the price of the product, the weight of the product and the logistics costs are changed. Each merchant should look at this relationship for each product or category of products individually to arrive at the best solution for their own category mix. 
What Should Merchants Do?
The key reason for writing this article is to help merchants be aware of the true cost of COD. I truly believe it is in their best interest to try and move customers towards prepayment methods and potentially even incentivise them to do so in an attempt to lower costs and save money. In the past I have found that the majority of first time customers to eCommerce stores placed an order via COD. However, after segmenting out customers who received their delivery successfully, the COD percentage subsequently fell rapidly by the 3rd or 4th transaction. 
Having conducted regular sessions with customers to learn of their preferences, I have also found that they do not want to use COD (if they have an alternative mode of payment). They however still use COD because of the lack of trust they have in eCommerce merchants.These same customers are happy to pay online for services such as FoodPanda, Netflix and even AliExpress, but when it comes to retail shopping within Pakistan, there is a trust deficit. 
It is up-to the merchants to earn that trust from customers and trust is only built in one way, CONSISTENCY. Merchants have to consistently perform and meet the expectations of their customers. The majority of the burden falls on the merchant and that is why merchants need a lot of support to help establish trust. 
How IPGs Should Help?
A merchant's ability to convince a customer to use prepayment methods is only possible if he has the tools he needs to provide customer support at every interaction. There are four key areas where merchants need support:
Signup

Integration

Order Placement

Refund
There are currently too many merchants who don't have access to IPGs because the steps required to initially sign up are too cumbersome and time-consuming. To even begin our journey towards digitisation prepayments need to be an option on every eCommerce site, not just the 1559 as stated by the SBP until Q3 FY20. (The figure refers to accounts created, I would wager a double digit percentage do not have their website actually integrated with the gateway yet.)
Integrations should be foolproof. When a merchant comes onboard, most of the integrations IPGs provide are not as easy as they should be. To integrate Stripe or the PayPal checkout into an eCommerce store is literally a 5 minute task for non developers on platforms such as WooCommerce, Magento or Shopify. I request every Bank CXO with a desire  to bring on eCommerce merchants to test this out themselves. If your team cannot show you a live working integration within 5 mins there is something wrong. 
The first key customer moment is when they are placing a prepayment order. Merchants at this point only care about 1 thing - their conversion rate. If that's the case why do so many payment gateways redirect you to another website. All the processing should happen on the merchants page in a secure form to ensure the best results.
Finally there are still so many manual processes that the merchant has to undertake. Take refunds for instance, some of the largest IPGs in the country still make you process refunds manually to the point where they ask you to submit hard copies of refund requests. How is this even an option today? 
Every IPG should have a refund button on their merchant portal and the best should have refund API's. There is no other way about it. When more than 5% of your transactions end up going into refunds the "happy flow" for the customers needs to extend that far as well. Product managers and designers at all banks and fintechs need to take this into account. It's beyond me how so much time and effort can go into building a product, but a core part of the operation which occurs regularly can be so badly ignored. 
Conclusion
This article in no means wishes to convince merchants to turn off COD as an option to customers, I actually feel that will do more harm to the merchant at this moment in time, while taking away a much needed option for customers. Instead I hope merchant look critically at the true cost of COD for their specific business and product line and start making moves towards building trust so that customers actually want to use alternative payment methods. I am a firm believer in Pakistan's digital potential. We just need to make sure we are taking the right steps towards it. 
If you liked this article please consider subscribing. We promise to never misuse your email address.