Discover more from DYL Ventures
Commentary from within Pakistan's startup and technology industry.
The Week in Pakistan (17th-23rd Feb)
This is the second edition of our weekly newsletter about the most important news regarding developments within Pakistan's Technology Sector. To receive this newsletter on a weekly basis subscribe to our mailing list on the right hand side or follow me on Twitter (@adamdawood). The first instalment of this newsletter can be seen here.
3G/4G Auction Set for April — Study believes Broadband Subscribers to Reach 45 million by 2020
The IT Minister has been travelling and is looking to convince new entrants into the market with the upcoming 3G launch. Leaked details from press photos show that the Government has plans to auction 3 licenses of 3G spectrum and another 2 licenses of 4G spectrum. Local operators including Telenor, Mobilink, UFone and Zong have already shown an interest in participating in the April auction.
Plum Consulting forecasts that the launch of 3G services would grow broadband users from its current 3 million to between 25–45 million by 2020.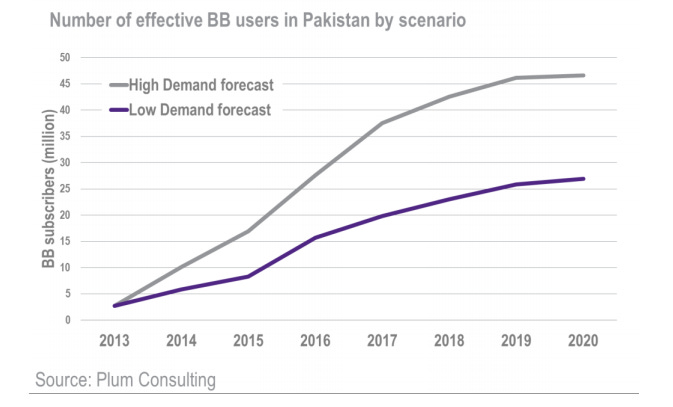 Fighting Corruption in Punjab
The South China Morning Post recommended The Citizens Feedback Model developed by the PITB as a method in which Beijing could combat corruption. Since it was launched 2008 it has recorded over 2 million SMS and been across all of Punjab. Given the high penetration of mobile phones within Pakistan, the PITB strategy is to use mobile governance as a way to combat corruption, provide smart policing, and many other projects.
French Entrepreneur looks to Pakistan and Zameen.com for Investments
Gilles Blanchard, a French real estate portal expert, is bullish on Pakistan's internet market and has invested in Zameen.com. He said that "if Pakistan's internet penetration was 80%, what would be the point of coming here", clearly looking to profit from the potential growth within the internet market. Currently Zameen.com receives over 220,000 monthly visitors and 10,000 site listings a month and the team is looking to double its size to 200 employees this year.
Elastica Raises $6.3m in Series A
Elastica, which is led by Rehan Jalil, has raised $6.3 million in its Series A round by Mayfield Fund. Rehan is an NED Alumni and follows in the footsteps of Ashar Aziz of FireEye which recently underwent an IPO, and Faizan Buzdar of Convo which raised $5 million from Morgenthaler Ventures.
Other News:
3 Plan9 incubatees make it to various international startup events

Jumpstart Pakistan is holding its Launch Event on the 1st of March in Islamabad. Their aim is to create 1500 new business in the next 5 years by placing existing CEO's/Mentors into startups.

DevBatch has been selected by the National Railways of Zimbabwe (NRZ) to develop a website for NRZ's passengers to reserve and buy train tickets online.