Discover more from DYL Ventures
Commentary from within Pakistan's startup and technology industry.
This Week in Pakistan (10th — 16th March)
This weekly newsletter is about the most important news regarding developments within Pakistan's Technology Sector. To receive this newsletter on a weekly basis subscribe to our mailing list or follow me on Twitter (@adamdawood). Previous instalments of the newsletter can be found here.
3/4G Auction
The auction has been rescheduled to April 23rd, after the heads of the network operators met with the ministers involved with the auction. The meeting was held to discuss concerns brought up by the operators. These included payment terms, which have now been changed to Pakistani Rupees, rather than US Dollars, and not to hold any further auctions of licenses for a period of 18 months, allowing the potential 3 winners to capture the early adopters within the market.
Leading up to the auction, Telenor Pakistan's CTO has also indicated that their entire network is now ready for 3G, with only minor upgrades needed at its core to be ready for 4G.
Go-Fig Solutions Wins World Startup Cup
Go-Fig creates software solutions that help with counter-terrorism and risk mitigation. Their flagship product, Blast-Sim, is designed to model different explosions and injury model combinations under varying conditions in both 2d and 3d environments. Having won Pakistan Startup Cup, Go-Fig then competed in the World Startup Cup held in Yerevan Armenia on 6th March. Competing against teams from Egypt, Malaysia, Russia, Philippines, Lebanon and Ghana, Go-Fig was named the eventual winner. You can see their pitch in the link to Vimeo below.
Go-Fig | Startup Cup | Vimeo
Startup Showcase — CricOut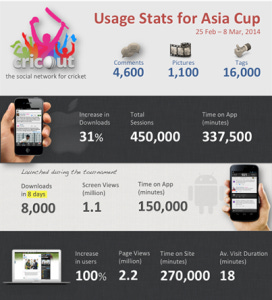 With this weeks newsletter we are starting a new segment in which we showcase a new startup each week. This week we look at CricOut which is a social network for cricket fans on the web, iPhone and Android. They launched their Android app last week during the Asia Cup tournament (Pakistan lost in the final to Sri Lanka) and have kindly shared an infographic demonstrating the apps use during the tournament.
CricOut was launched by Owais Anjum and his team at eMumba a startup based in Islamabad. They started developing the product back in January 2012, and after having raised $85,000 in January '13 have managed to develop a strong following. Over the course of the Asia Cup over 4,600 comments were left by users who spent more than 750,000 minutes on the platform across the web and their mobiles apps.
CricOut | eMumba | TiA | Tribune
Other News
World Bank to assist in setting up technology parks in Pakistan | ProPakistani

SofTec'14 held its annual conference | The AppJuice